The Wolfhound is just as lovely as it is big!
The Irish Wolfhound is one of the world's largest breed of dogs - the gentle giant!
A lovely, kind and calm companion. From an old saying: "Gentle when stroked, fierce when provoked"!
The Wolfhound is often quite lazy, but likes and needs the daily excercise, specially when weather is not too hot.

The Irish Wolfhound has a rough haired coat, that is weatherproof and needs regular trimming and grooming.
Most Wolfhounds like to spend plenty of time outdoors, preferably in good company!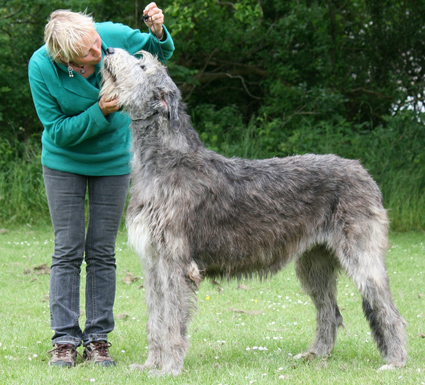 I have always admired these fantastic large dogs and in 2001
it was possible to import the marvellous wheaten coloured bitch: 
Dahmrak's Dejlige Denise from Sabine Hohenberger in Germany.
So absolutely great, beautiful, strong, big, healthy and with so super in temperament as they can be!
 
Denise won so much in quite a few shows: INTCH, DKCH, SECH, NCH, LUX.CH, NORDCH.
Breed winner Denmark '04 and Copenhagen winner '04.  
In 2006 Denise was mated to one of Denmark's very best males:
INTCH, MULTI CH, DARK MYSTIC'S MARAUDER,
the result was a litter of five.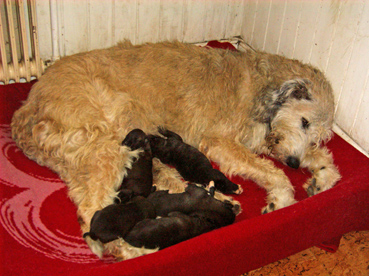 -

One of her daughters, brindle Eikica Intriquiging Iris, stayed at home with me.


See our Irish Wolfhound boy

See our Irish Wolfhound girls
See our "Past wolfhounds"
You can always see some old Irish Wolfhound NEWS 2012 and the newest
NEWS here!
Wolfhound Puppy News 2022
click for NEW LITTER BORN 31.12.21